Bio
Hi there :) I am Marina Susanne Hahn. Please, call me Marina. I am a Frankfurt/M. Germany-based artist. I have blended my visual art skills with my experience in communication. The result for me is an alliance of my two passions.


My deep diving into painting has allowed me to connect creativity with my work and life experiences, woven into a story ready to be told in oil, acrylic, watercolors, and mixed media.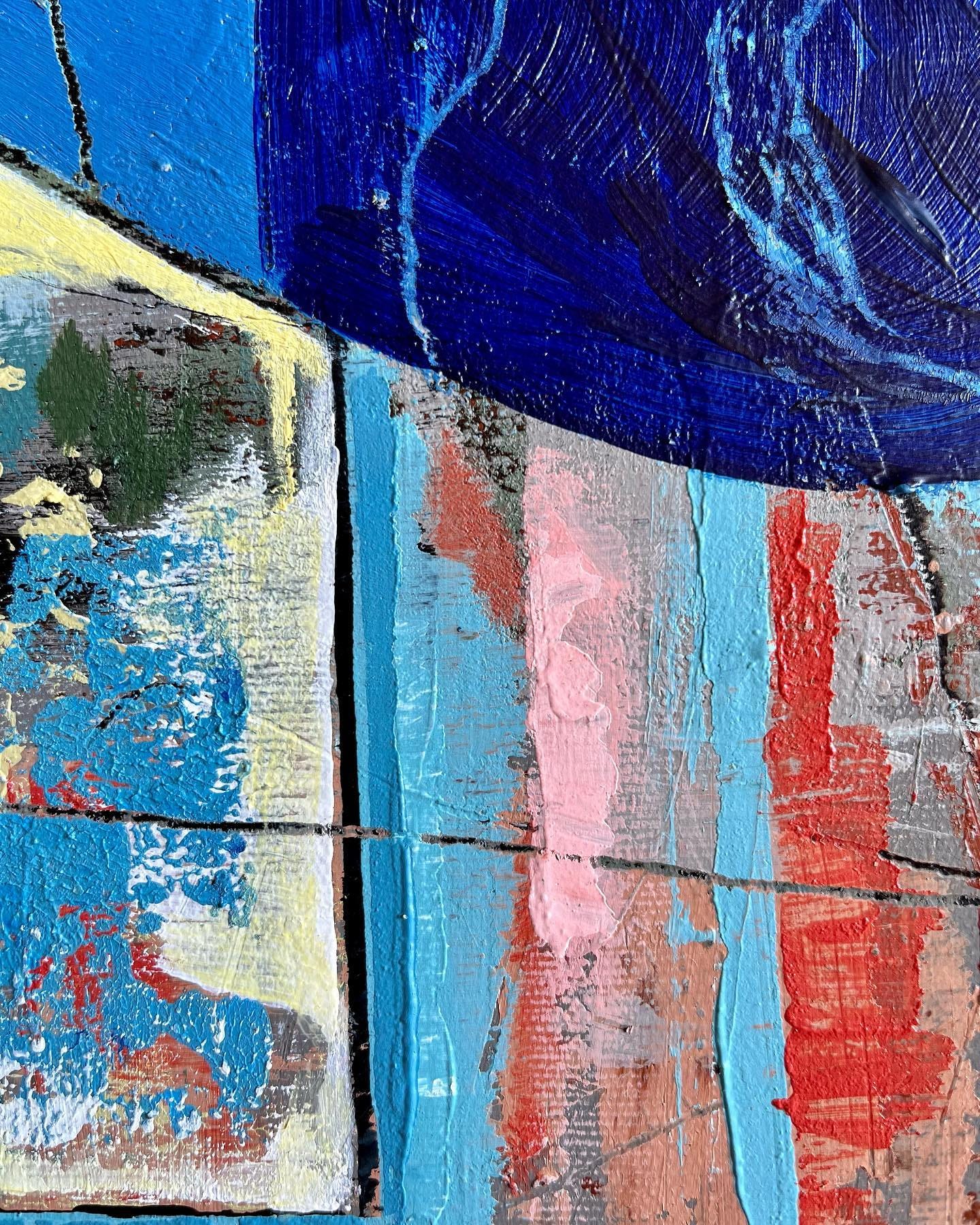 The kind of works I make is either figurative, abstract, or a mixture of both. I paint in oil, acrylic, watercolors and sometimes I use mixed media. Oil gives me a creamy surface with deeper colors and smooth transitions plus more time in the making. Acrylic allows me to paint fast and spontaneously because of its quick drying time. However, I usually add a medium that gives my acrylic colors a thick texture and with it body and depth similar to oil color. Watercolors have their very own flow and lucidity, their own willpower. Mixed media invite my inner child: let's explore. All four materials allow layers over layers, which let the painting "grow". I usually start with sketching, then make a decision on material, process and size.


The ideas I am exploring through my art have to do with my so-called "three Ps": psychologically – here the inner self, philosophically – here values, politically – here interaction with others. The bottom line is respect, self-exploration, joy, and hope.

In my paintings, you can find references to abstract and figurative expressionism, impressionism, and Japanese woodcut art. Apart from my "Talking Flower" series which is without a role model, Cy Twombly is an artist whose ideas of mark-making I have purposefully incorporated into my work.

Over the years my work has evolved from purely intuitive in my teens and twenties to focus on what is concrete and what are the details, to presently an intuitive approach but with a choice in art making.
Shows
Artbox.Project, Zurich 5.0, Switzerland,
6 - 10 September 2023. Group exhibition.
The Stage Gallery, Bonn/Germany, 7 July (opening) - 5 August 2023, group exhibition, on-site.
Artbox.Project, Basel 2.0, USA, 17 - 26 June 2023. Group exhibition, virtually.
Artbox.Project, New York 2.0, USA, 17 - 26 April 2023.
The Holy Art Gallery, Athens, GR, 2023, 10 – 19 March. Group exhibition, virtually.
Art Basel Art Weeks Miami, Artbox.Project Miami 3.0, USA, 2022, 28 Nov. - 10 Dec., group exhibition, virtually.
Frankfurter Künstlerclub, Germany, 2022, 4 - 20 Nov., group exhibition, onsite.
The Holy Art Gallery, London, UK, 2022, 23 - 29 June, group exhibition, virtually. The Holy Art Gallery, London, UK, 2022, 5 -11 June, group exhibition, virtually.
Art Nou Mi-lenni Gallery, Barcelona, Spain, 2021, 16 – 30 December, a group exhibition on site.
Lorber the Store, Frankfurt/M., Germany, 2020 and ongoing. Prints of the "Talking Flowers" series.
Café Gegenwart, Frankfurt/M., Germany, 1987, Oct.-Nov.
Art Prizes / Awards
Circle Foundation for the Arts: Exhibition "Miami-Contest" Finalist. July 2023.
Circle Foundation for the Arts / Art/DEAL Magazine Cover Contest Finalist. June 2023.
Circle Foundation of the Arts / Spotlight Magazine Cover Contest Artistic Excellence Award 2023.
Contemporary Art Collectors & Contemporary Art Curator Magazine / Collectors Art Prize 2023.
Contemporary Art Station / Contemporary Expressions Award 2023: "Honourable Mentions" (one of three second places).
Thomson Gallery, Zug, CH, 2022.

Print
Artisti di Oggi e di Domani / Artists of Today and Tomorrow. Rome, Dec. 2023.
SPOTLIGHT Issue 33, 2023.
My Motivation
When viewers feel inspired to further explore my paintings, I am content. Sometimes there are shared stories between the viewer and myself; sometimes there are other perspectives in the paintings.

To trigger curiosity in the viewer, unlocking the Inner Free Child, is one motivating force in me. Giving flora and fauna a stage and bringing joy are further puzzle parts in my motivation to create art.
Find me in SPOTLIGHT 33
https://circle-arts.com/spotlight-33/